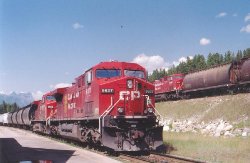 Welcome to the RRPictureArchives.NET contributor site of Dennis Andariese.

I have been a rail fan as long as I can remember. I do remember those beautiful Pacifics as commuter engines on the Erie. Although I can find several drawings I did of engines (mostly on elementary school report card folders) I took no pictures until I was given an old Argus C4 in 1967, and the only one then was of a CP 'park' car at Jasper AB. Along the way I found spots to capture pictures as seemingly friendly to photographers as well. For 20 plus years, my main photo site was less than 100 ft. from my backdoor as I lived at MP 82 on the old Wabash line from Detroit to Kansas City. I would estimate that as many as 50 trains passed the house a day, although some were at night and I rarely heard them. Now, I find myself in the Big Sky Country, with many BNSF unit trains to be seen close by in Helena and Butte, While I have a few good shots of trains in action, I am the proudest of the of the ones taken of sunsets along the rail line where I lived. I hope you enjoy my efforts. Dennis

You may browse my collection of pictures via the menu located on the left hand side of the page. I hope you enjoy the collection and thanks for stopping by!
Note: This site is best viewed in Internet Explorer 6.0 or above.
Select one of the links from the menu on the left to begin browsing the collection.